Breaking revenues with sales management software
Why does revenue keep declining for many enterprises? Perhaps the product was not designed to meet the needs of the user, or the product marketing plan wasn't good, but how many managers realize that the key might lie in the sales management software, they have been ignored for a long time. It is because of this type of tool that many enterprises have achieved breakthroughs in revenues. We invite you to find out more details with BEMO through the article below!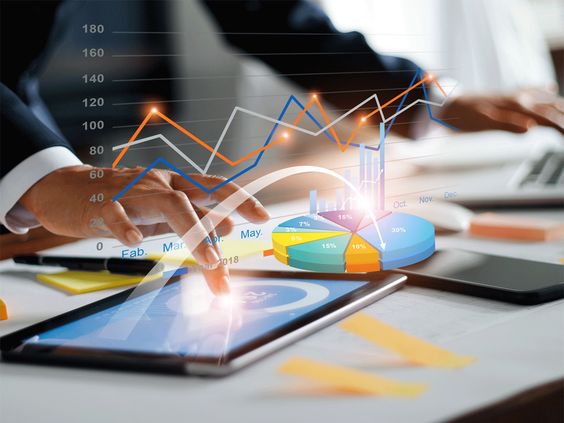 1. Disadvantages of the traditional sales process
As digital technology has developed, many enterprises have invested in modern tools that support all aspects of management, such as implementing sales systems and developing human resource capabilities. As a result of these changes, the traditional sales process is gradually becoming ineffective in the current business model, resulting in major shortcomings such as: 
Discrete sales process, time-consuming and human resource:

In the sales organization, there is no close connection between warehousing and bringing products to market. Customer experience is compromised due to long response times, complex purchase processes, and poor customer service. Customer conversion revenue is drastically reduced as a result

 

The revenue report is not synchronized and detailed:

According to the revenue report, the number of products sold by season will be listed, as well as which products are in decline. Enterprises can make reasonable adjustments quickly if they have access to clear and timely statistics, assisting them in maintaining stable revenue.
2. Top 3 important features of the sales management solution
The disadvantages outlined above have made sales software increasingly important to maximizing revenue.
2.1. Storage and warning of normed inventory, management of imports and exports
The sales management software helps users update the locations and quantities of different types of goods in the warehouse, helping to reduce the lack of rigor in the import and export process. Their objective is to aggregate products without adequate inventories, so users can import goods in a timely manner based on product information. Furthermore, it assists businesses in developing strategies to maximize promotion profits by analyzing the type of goods that are circulated during the day, saving data in the system, and making conclusions about best-selling products.
3.2. Analysis of sales according to management goals
Managers can view a detailed data table synchronized with sellers' updates on product sales. Data from revenue plays a crucial role in helping managers analyze strategies. In order to increase the customer life cycle, it is necessary to improve this policy if it is not reasonable.  
Specifically, managers can assess each employee's capacity based on their sales volume, providing a reward system that stimulates internal efforts. 
3.3. Meeting business requirements in sales management
Do administrators prefer software that includes many features such as purchasing management, supplier debt repayment, warehouse management, cash flow management, and point of sale management? In particular, it is capable of connecting with external systems such as electronic invoices and delivering goods to consumers. It is possible for software to play a number of roles in the sales process. The manager will save a great deal of money by not hiring employees and he or she will overcome any risks that may arise.
2.4. Important note when choosing sales management software
 In order to find a sales management software that works effectively, businesses should pay attention to the following points: 
Use the tool with the appropriate sales form: online, offline; B2B, B2C,… 

 

Make sure you do not immediately implement the same type of software used by large businesses in your business management system. Various business models and methods are used by different businesses 

 

You should set the criteria for the software that will apply to your business: price, quality, support features, … 

 

Find a product that meets most of the above criteria by consulting many information sources from different service providers

 
3. Learn about sales management software at BEMO
With BEMO, you can not only manage your sales, but also optimize all your business's resources. According to each customer's needs, the experts adjust and optimize the software to be compatible with their business. As BEMO is built on standard processes and can connect data, it ensures smooth coordination between departments within an organization.  
As a result, the tool improves the ability to proactively track sales processes and gather data from departments related to managers, resulting in a much more productive and efficient working environment.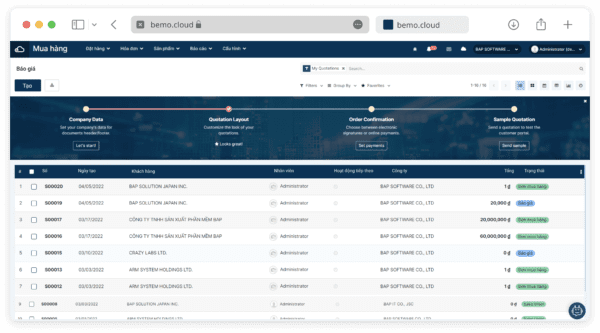 So we have learned about sales management software in the business. Do you want this type of tool to help you optimize sales at your business? Contact BEMO via email support@bemo.cloud or call 0865 994 039 for help incorporating them into the process.